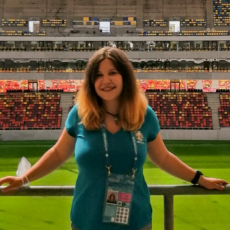 When did you start volunteering?
2019
When did you join TBTT?
15th October 2019
Where have you volunteered in the past?
Yes, Scouts of Romania, Society of Pharmacy Students in Bucharest, Euro 2020, festivals (Untold, Neversea), World CleanUp Day, helped in the crisis in Ukraine.
What roles did you play in TBTT?
Ticketing, ceremonies and mobility teams. Welcoming the players and the officials to the locker rooms before the matches, on-site volunteer coordinator.
Chemist
My story with TBTT began in October 2019, at the Romania-Norway match at the National Arena when I entered a stadium for the first time. I liked them so much, the team, the atmosphere and the way of communication that I knew it was not going to be the last match that I will help organize. Almost 20 events later, both in Bucharest and in Ploiești or Buftea, not counting EURO 2020, I think I've gone through almost all the roles of a volunteer, I've learned that any problem has at least two solutions, that you can always take infinitely more steps than you knew possible and there's always at least one volunteer you stay friends with after every single match.
In the end, I hope to help organize as many matches as possible, always be there for what is needed and see how we win as much as we can.