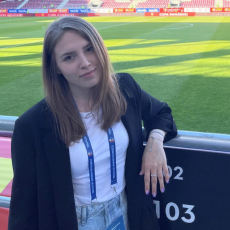 What do you do on a day to day basis?
Student at the Polytechnic University of Bucharest
When did you join TBTT?
October 2019
Where have you volunteered in the past?
The events carried out by FRF (U19,20,21, Cup, Supercup), Euro 2020 Final Draw, Euro 2020, L'Etape Romania by Tour de France.
What roles did you play in TBTT?
Over time, I had several roles in the events organized by the FRF, from the state to the turnstiles, to the VIP welcoming. During Euro 2020 I was an airport volunteer, and during L'Etape Romania I had the opportunity to be a coordinator.
Student
My story with Team Behind the Team started at the Final Draw Euro 2020 where I had the opportunity to volunteer at Henri Coanda International Airport. From here I was left with extraordinary memories, I met wonderful people, with whom I could communicate easily and with whom I managed to keep in touch. My experience continued at the European Championship where I had the same role, but I also had the pleasure of participating in some matches, where I also saw my former colleagues
I want to thank the Team Behind the Team for all the amazing experiences, for the unforgettable memories and for the wonderful people I met.
I know our story doesn't end here...