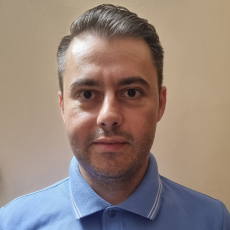 What do you do on a day to day basis?
Economist and lecturer
When did you join TBTT?
June 2021
Where have you volunteered in the past?
Junior Achievement, Neversea, UEFA Nations League (Milan, 2022), European Handball Championship (Hungary, 2022), European University Games
What roles did you play in TBTT?
Turnstiles Lead Volunteer, media access, match promotion
Economist and lecturer
My story in TBTT started once with the European Football Championship 2020, with the occasion of the 4 matches hosted by Bucharest. I was part of the Venue Operations department, where I was coordinator of the turnstile team. I was also at the national team games that took place in Bucharest (friendly matches, but also the official ones in the League of Nations, the 2021 and 2022 editions) where I switched through various roles such as media access, promoting future matches of the national team by distributing flyers, activation of the Fan Arena App – GIF Corner application, VIP parking access coordinator.