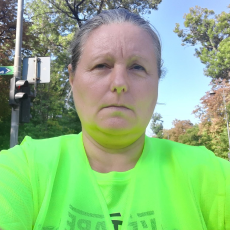 What do you do on a day to day basis?
I am a PE teacher
When did you join TBTT?
September 2019
Where have you volunteered in the past?
At various sports organizations, RoClub Marathon, Sanatatii Champions, Marathon 1 December
What roles did you play in TBTT?
In TBTT I had various roles for example: Euro 2020 Ceremony, Stadium Access, Children's Access Attendant on the field.
Alexandra Tudorica
42 y.o.
Teacher
My story with TBTT started with the EURO 2020. I was honored that I was selected to be part of this wonderful team, and that these people believed in me. We developed the idea of ​​volunteering together and wanted to take it further, to give our best at every event we hold. We do interesting things with extraordinary finality, mentality that we have passed to other people, with agile, positive thinking, also positive attitude and pleasant experiences.