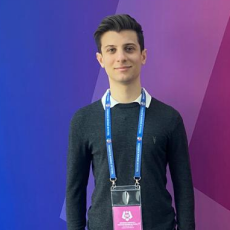 What do you do on a day to day basis?
Sport Management student at the Amsterdam University of Applied Sciences.
When did you join TBTT?
March 2022
Where have you volunteered in the past?
I have not volunteered in the past.
What roles did you play in TBTT?
Directing people to their seats, distributing promotional materials, volunteer coordinator for the market study for Romania Store, TLO
Student
My experience with TBTT was full of various challenges because I was part of this team from two perspectives.
Firstly as a volunteer in various actions and secondly as an intern for three months within the FRF. I can say that in both circumstances I was always supported and encouraged, and the team spirit motivated me to try to be better and better. The community around these projects is so passionate about performance that it helps you to always better yourself. I thus had the opportunity to participate in online trainings, I understood what the work behind a course means, but I also had the chance to be on the ground within the TLO team. The opening of the Federation store and the National matches gave me the chance to get involved in volunteering, which I will surely return to in the future.

All these actions gave me a clearer perspective on my future professional path. I particularly appreciated the trust with which I was invested during the events and I hope that I successfully faced the challenges that arose along the way.